We not only promise to deliver beautiful landscaping, but that you will never have to worry about clean-up. We leave every site immaculate. Epic Landscape & Design is fully insured and ready to design and install your outdoor dream.
Our Services Include:

Landscape Design & Installation
Let us design and install the landscape of your dreams. Since no two people are the same, we take the time to listen to your wants and needs, and then design the landscape that is perfect for you.

Hardscaping
Hardscaping is the other element of landscaping and includes everything that is not alive. Rock, pavers, waterfalls, driveways, walkways, and retaining walls are all hardscaping. Epic Landscape & Design LLC is a full service provider that can design and install any of these hardscape elements that can enhance or compliment any existing or new landscape. Our company has extensive experience in designing and installing paver patios, decks, built in seating, fire pits, and more.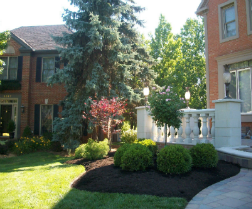 Free Estimates
No two projects are the same. We don't believe in one price fits all, but do customize our bids to meet your needs. We provide detailed and reasonable estimates.
Tree Trimming
We trim and shape trees according to type of tree and natural growth habit.
Lawn Installation
We will professionally install a lush lawn for you using only the highest quality turf seed and/or sod.
Landscape Clean-up & maintenance
We will get you ready in the spring with edging, mulching, trimming, fertilizing, and total cleanup of your landscape. Then in the fall, you can count on us for leaf removal, trimming of shrubs and perennials and winter mulching

Annual Flower Installation
We install a wide variety of seasonal flowers creating beautiful swatches of color to enhance your home and landscape.
Aeration
Fall aeration helps reduce soil compaction and allows water and nutrients to get your lawns roots.

24 Hour Emergency Snow Removal
When the snow begins to fall we are ready to clear your driveway, walkways, parking lots and anything else that needs to be cleared. We only start plowing snow if there is 2" or more of snow on the ground unless otherwise specified. Our phone lines are on 24 hours a day if there is a need for emergency snow removal.

If you are in need of a brand new landscape design, want to enhance your current design, or simply need your current landscape cleaned up and maintained, we are the full service design build company that can help!



Elegant Outdoor Solutions